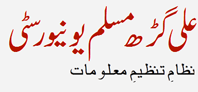 Current News
ALIGARH: 21-01-2022

AIMS (AMU Information System) is back on Cloud
AIMS (AMU Information System) has been migrated back to Cloud since 25-07-2022.
ALIGARH: 02-09-2019

AIMS has been migrated from cloud to LAN of AMU
AIMS (AMU Information System) has been migrated from Internet to LAN of AMU on August 12, 2019. It is available on LAN in AMU Campus only
ALIGARH: 18-11-2018

Reunion event organized at Industrial Chemistry
The Industrial Chemistry Division of Department of Chemistry organized a Reunion- cum-Alumni Meet.
Current Notices
- Important AMU links added at Footer
- Secure SSL connection launched.
Urgent Action Desired
- Update All Students' Data
- Update Research Scholars details
News Details

AMU News
04-11-2018
AMUSU 2018 Election Result: Counting continues
Result of Election of AMUSU 2018 counting underway
Aligarh: November 4:Mohammed Salman Imtiaz is set to win the Aligarh Muslim University Students' Union (AMUSU) 2018 Presedential elections polling for which was held Saturday. Salman Imtiaz hails from Aligarh and is a student of PhD Social Work.
Counting of votes in Aligarh Muslim University Students' Union (AMUSU) 2018 elections is still underway. However, reports from the campus at 11:45 pm said M Salman Imtiaz is leading with more than 3,350 votes.
Others in fray for the post of AMUSU President are Gaznabi (1671 votes), Aaluddin (1290) votes and Mubashhir (600 votes).
In the AMUSU Vice President election 2018, Hamza Sufiyan is leading with 1350 votes against his rivals Yaseen Ghazi - 835 votes, Zaid - 650 votes, and Tayagi - 300 votes.
In the AMUSU Secretary election 2018, Huzaifa Amir is leading with 1710 votes against his rivals Gufran Ali - 730 votes, Sufiyan - 535 votes, and Salman - 340 votes.
These are just trends as counting of votes is still underway. The AUMSU 2018 Election Final Result is expected any moment.
Mashkoor Ahmad Usmani, a BDS college student, had defeated Ajay Singh to win the Aligarh Muslim University (AMU) Students' Union in the 2017 presdential election. Sajad Subhan Rathor had won the Vice President election in 2017. Mohammad Fahad had won the election of Secretary in 2017.
Meanwhile, counting of votes for AMU Womenís College Studentsí Union (WCSU)is completed and the results have also been declared. Afreen Fatima, who hails from Prayagaraj, is elected to the post of President. Naheed Asad has won the Vice-President election and Maimoona Ansari has been elected as the new AMU WCSU Secretary.
There are 18,886 voters in the Aligarh Muslim University (AMU) while the Women's College has 3,014 voters. Polling booths were set up in 14 departments and voting was held till 5 pm Saturday. Counting of votes began at around 07:00 pm.