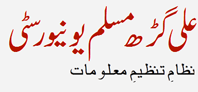 Current News
ALIGARH: 02-09-2019

AIMS has been migrated from cloud to LAN of AMU
AIMS (AMU Information System) has been migrated from Internet to LAN of AMU on August 12, 2019. It is available on LAN in AMU Campus only
ALIGARH: 18-11-2018

Reunion event organized at Industrial Chemistry
The Industrial Chemistry Division of Department of Chemistry organized a Reunion- cum-Alumni Meet.
ALIGARH: 15-11-2018

AMU celebrates Children's Day
AMU celebrated Children's Day, the birth anniversary of the first Prime Minister, Pandit Jawaharlal Nehru by paying tributes to
Current Notices
- Important AMU links added at Footer
- Secure SSL connection launched.
Urgent Action Desired
- Update All Students' Data
- Update Research Scholars details
FAQs

Help
Help tab has a list of items and can display the list of those items. It is designed to provide the users different codes which occasionally are needed to filter the data. Simply copy and paste the code needed to filter and search the data in other modules.
Users' Guide
The complete documentation for users is given in the following "AIMS Documentation" file and can be downloaded:
AISHE data for NAAC
Following files have been uploaded to AISHE website in the previous years related to University Data. Please download them and use their contents as per need of the NAAC requirement.:
Identity Card
The personalized and pre-filled proforma (with photo) for ID card can be downloaded by a student if he/she is logged-in. Please read the first page of website for details.
For any reason if pre-filled form can not be accessed or not available then blank proforma can be filled (but not desirable). The blank proforma for Identity Card for old students can be downloaded from the following link:
Student Registration
If you are unable to register then contact the dealing person in Provost office of your Hall. Alternatively you can email anees.sdu@gmail.com for help.