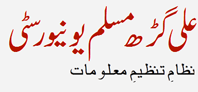 Current News
ALIGARH: 02-09-2019

AIMS has been migrated from cloud to LAN of AMU
AIMS (AMU Information System) has been migrated from Internet to LAN of AMU on August 12, 2019. It is available on LAN in AMU Campus only
ALIGARH: 18-11-2018

Reunion event organized at Industrial Chemistry
The Industrial Chemistry Division of Department of Chemistry organized a Reunion- cum-Alumni Meet.
ALIGARH: 15-11-2018

AMU celebrates Children's Day
AMU celebrated Children's Day, the birth anniversary of the first Prime Minister, Pandit Jawaharlal Nehru by paying tributes to
Current Notices
- Important AMU links added at Footer
- Secure SSL connection launched.
Urgent Action Desired
- Update All Students' Data
- Update Research Scholars details
News Details

AMU News
01-11-2016
AIMS upgraded with New Features
New Log-in facilities have been created for both Students and Staff in general.
Both Students and Staff of AMU can now register with AIMS (AMU Information System). Students can only submit data and request for correction, if any. They can also lodge their grievances, if needed. The concerned office will take care of their requests. Staff members are working in different capacities and they have different privileges according to their status as Managers and Executives. Thus every one can excute as per privileges assigned to them. General users can directly correct their personal data, of course after logging in the system.