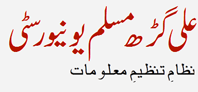 Current News
ALIGARH: 21-01-2022

AIMS (AMU Information System) is back on Cloud
AIMS (AMU Information System) has been migrated back to Cloud since 25-07-2022.
ALIGARH: 02-09-2019

AIMS has been migrated from cloud to LAN of AMU
AIMS (AMU Information System) has been migrated from Internet to LAN of AMU on August 12, 2019. It is available on LAN in AMU Campus only
ALIGARH: 18-11-2018

Reunion event organized at Industrial Chemistry
The Industrial Chemistry Division of Department of Chemistry organized a Reunion- cum-Alumni Meet.
Current Notices
- Important AMU links added at Footer
- Secure SSL connection launched.
Urgent Action Desired
- Update All Students' Data
- Update Research Scholars details
News Details

AMU News
12-09-2013
Nutrition week celebrated
Department of Home Sciene organizd Nutrition week celebrations.
ALIGARH September 12: *On the occasion of Nutrition Week, the Department of Home Science organized a host of activities to promote healthy food habits based on balanced diet and nutrition. Prof. Anisa M. Durrani, Chairman, Department of Home Science said that an essay writing competition on "importance of nutrition week" was organized by the department and students of B.Sc. participated in the competition. Ms. Naseemus Sahar, Mrs. Zeba Sarmad and Ms. Ayesha Farheen extended help in the organization of the essay competition. Prof. Mrs. Durrani said that other literary and cultural events were also organized during the week such as "Just-a-Minute" (JAM) on the theme "health and nutrition" and a quiz competition related to nutrition, general health and well-being. She said that a large number of students participated in the events. The week long programmes were aimed at promoting awareness about nutrition week and healthy life style among young students.