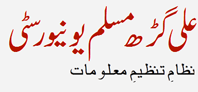 Current News
ALIGARH: 02-09-2019

AIMS has been migrated from cloud to LAN of AMU
AIMS (AMU Information System) has been migrated from Internet to LAN of AMU on August 12, 2019. It is available on LAN in AMU Campus only
ALIGARH: 18-11-2018

Reunion event organized at Industrial Chemistry
The Industrial Chemistry Division of Department of Chemistry organized a Reunion- cum-Alumni Meet.
ALIGARH: 15-11-2018

AMU celebrates Children's Day
AMU celebrated Children's Day, the birth anniversary of the first Prime Minister, Pandit Jawaharlal Nehru by paying tributes to
Current Notices
- Important AMU links added at Footer
- Secure SSL connection launched.
Urgent Action Desired
- Update All Students' Data
- Update Research Scholars details
News Details

AMU News
04-09-2013
New President of Eco Club appointed
Dr. Afifullah Khan of Wildlife Sciences has been appointed as President of Eco-Club
ALIGARH September 2: The Vice Chancellor Lt. Gen. Zameer Uddin Shah has appointed Dr. Afifullah Khan, Associate Professor, Department of Wildlife Sciences as President of Eco-Club, in addition to his own duties, for a period of two years or till further, with immediate effect, in place of Dr. Fareed Ahmad Khan.