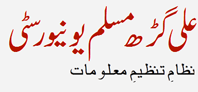 Current News
ALIGARH: 18-11-2018

Reunion event organized at Industrial Chemistry
The Industrial Chemistry Division of Department of Chemistry organized a Reunion- cum-Alumni Meet.
ALIGARH: 15-11-2018

AMU celebrates Children's Day
AMU celebrated Children's Day, the birth anniversary of the first Prime Minister, Pandit Jawaharlal Nehru by paying tributes to
ALIGARH: 06-11-2018

AMU Wins All India Debate Competition
The University Debating and Literary Club (UDLC), Aligarh Muslim University (AMU), has won the Janak Kapoor Memorial National Debate Running Trophy
Current Notices
- Important AMU links added at Footer
- Secure SSL connection launched.
Urgent Action Desired
- Update All Students' Data
- Update Research Scholars details
Welcome to AMU Information management system.
The system (AIMS) has been recovered and working. But Data between 31-07-2019 to 12-08-2019 (13 days) has been lost. Please enter it again. Sorry for the Inconvenience caused to you.
Please report error if any in system
Welcome to AMU Information Management System (AIMS). You are visiting its Public Domain. The system is intended to manage all sorts of AMU Information either for general consumption or for internal management. It will be having following modules:
Public
Students
Human Resource (Teaching & Non Teaching)
Finance
Documents
Services
Library
Inventory
The Student's Module which has all functionality from student's admission to the course completion including accommodation is now complete. The Public module has been released on August 15, 2013. But it is in the development stage. The work on the other modules is also in progress. The access to the management part is restricted to the registered and authorized executives officers and their assistants. They are given different privilages as per their official capacities. So they can access the system by login using their registered username and passwords.
some more contents
What we offer
more more contents