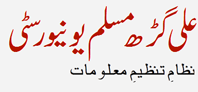 Current News
ALIGARH: 26-01-2017

New Student
lol
ALIGARH: 27-12-2016

File Tracking System for Registrar Office
File Tracking System has been introduced for Registrar Office
ALIGARH: 02-11-2016

AMU organized 64th Annual Convocation
AMU organized 64th Annual Convocation on November 01, 2016 at Gulshane Syed.
Welcome to AMU Information management system.

Updated with more features on November 01, 2016
Welcome to AMU Information Management System (AIMS). You are visiting its Public Domain. The system is intended to manage all sorts of AMU Information either for general consumption or for internal management. It will be having following modules:
Public
Students
Human Resource (Teaching & Non Teaching)
Finance
Documents
Services
Library
Inventory
The Student's Module which has all functionality from student's admission to the course completion including accommodation is now complete. The Public module has been released on August 15, 2013. But it is in the development stage. The work on the other modules is also in progress. The access to the management part is restricted to the registered and authorized executives officers and their assistants.
some more contents
What we offer
more more contents